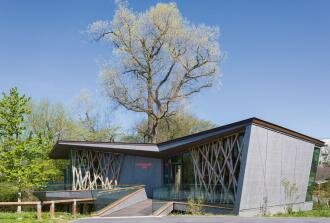 Hospitals have a rather austere reputation, but the use of timber engineering is helping them to lighten up, creating facilities that can cater to our sense of mental well-being as much as our physical healthcare needs
Photo: Maggie's Oxford. Copyright © Philip Durrant. Courtesy of Maggie's charity
When the show's over, the team behind the design and implementation of the Maggie's centre in Oxford may go home without a prize – that's the nature of competitions – but as a contender on the shortlist for this year's Wood Awards, it is already acknowledged as an outstanding example of architectural flair and engineering prowess.
Regardless of how it goes on the night, however, in a far more important sense, Maggie's Oxford is already a winner whether it walks away with an award or not. That may sound trite; perhaps it is. Nevertheless, it also happens to be true. That's because the Maggie's centre in Oxford, like its 18 or so sister centres throughout the country, is helping the charity to provide all-important practical, emotional and social support to people living with cancer.
"Every year 300,000 people in the UK are diagnosed with cancer, facing tough questions, exhausting treatment, and difficult emotions that can range from anxiety to loneliness and isolation.
These challenges affect not only the person with cancer, but their family and friends too," the charity says. For those not familiar with the organisation, it was established in 1996 by Maggie Keswick Jencks. She herself lived with advanced cancer for two years, and the charity follows up her ideas about cancer care and her view that people with cancer should not "lose the joy of living in the fear of dying".
Design is regarded as vital to the charity's purpose of nurturing the emotional and psychological well-being of cancer sufferers and their families. To that end it has worked with some of the top names in architecture – Zaha Hadid, Richard Rogers, Norman Foster, among others – to create structures that are more than just functional space, but provide a welcoming, peaceful, and homely atmosphere.
"The architecture and design of each Maggie's centre is vital to the care they offer; they need to be places where people can read themselves differently, as individuals in unusually difficult circumstances, and not as patients," the charity says.
"Each Maggie's centre is carefully designed to suit its exact location, working closely with the chosen architect and local hospital. Whilst each centre is individually designed, they all share similar qualities and spaces, each is designed to feel more like a home than a hospital, with no reception desk, no signs on the wall, no name badges, and a big kitchen table at their heart."
Each centre is also built on the grounds of specialist NHS cancer treatment hospitals. Maggie's Oxford is no exception. It is situated on the grounds of Churchill Hospital, across from the Cancer and Haematology Centre, where it is described as seeming to "float amongst the trees". Indeed, the concept was inspired by the idea of a treehouse.
"Our design encapsulates the philosophy and principles on which the Maggie's centres are based – the tree house concept maximises the relationship between the internal space and the external landscape offering discreet spaces for relaxation, information and therapy, it will provide a sympathetic and caring retreat, in tune with its surroundings," said Chris Wilkinson, of Wilkinson Eyre, the architects for the project.
The building's structure is entirely fabricated from engineered timber. It puts a range of crossply laminated timber (CLT) materials to good effect, the combination enabling that appearance of floating off the ground.
The CLT panel floor supported on glulam beams forms the elevated base of the building and provides a "robust" perimeter edge for the connection of level access balconies and the timber-clad pedestrian bridge to the road.
A folding three-dimensional lightweight roof fabricated using Kerto LVL structural ribs and wrapped with a Kerto skin extends seamlessly throughout the building, "sailing" over the external balconies to provide shelter or shade. As for the building's external fabric, this is also wrapped in pressure-treated Kerto sheeting, finished with a semi-translucent silver/grey solignum stain. This exposes the underlying wood's grain while offering further protection from the atmosphere. The colour reflects the natural weather of the spruce, which will silver to sit comfortably with the landscape.
This treatment also marries with the unfinished solid oak trellis that provides privacy and shading to the large expanse of glazing. Photographs certainly reveal an eye-catching and attractive piece of architectural engineering, but this being the Wood Awards, it is of course not alone in that one. All the same, for Maggie's you might say it's the icing on the cake; the charity is "delighted" to be in the running.
Maggie's Oxford is competing in the commercial and leisure category in the Wood Awards buildings competition. The winner will be announced in November at an awards ceremony in London. While the NHS, by necessity perhaps, requires a rather more clinical and sterile construction approach – in a design sense as much as in cleanliness – that doesn't mean design of NHS facilities can't resonate with some of the same ethos as Maggie's charity. A health centre opened in Surrey a couple of years ago is a case in point.
Cranleigh Medical Centre, near Guildford, was designed to create a light and natural venue intended to foster a sense of wellbeing and wellness. The use of engineered timber in its construction was a vital aspect, in terms of both physical build and its aesthetic appeal.
The £4.2 million facility provided doctors' consulting rooms, nurse practice rooms, treatment and minor surgery rooms, along with admin, training, and patient waiting areas. The centre was built with sustainability in mind, and it was shaped in such a way to maximise daylight and the potential for natural ventilation.
Designer SR Architects, based in Bath, and main contractor Morgan Sindall opted for a CLT superstructure, supplied by Stora Enso, which was erected by timber engineers Eurban. The choice of material was as much about speed and accuracy of construction, as it was sustainability and aesthetic design, but these elements combined to create a building that earned accolades from patients and practitioners alike. The centre also achieved a BREEAM 'excellent' rating.
"Our desire was to create an uplifting environment and the exposure of the natural CLT superstructure in the communal areas has helped soften the feeling internally and eliminate some of the negatives naturally associated with clinical environments, which are often very austere," said architect Sohrab Rustomjee.
Timber construction systems can be a real boon for NHS chiefs, whether they are used to provide the unglamorous structural build, destined to be hidden away behind the finish, or whether they are harnessed to show wood's natural aesthetic flair.
The systems offer faster construction times, with greater degrees of accuracy in the build process, and with greater scope to build-in better performance at the design stage. Wood, of course, is a sustainable material, but it also offers greater energy efficiency into finished projects; a saving in running costs down the line. For an organisation as large as the NHS, with a similarly large estate to run, that's an obvious plus point for timber systems.
"Offsite construction presents a cost-effective and efficient means to meet the need for high-quality, low-maintenance medical facilities – whatever the building schedule or architectural specification. Combining this approach with using timber frame offers contractors and healthcare providers the ideal method in balancing cost and speed with quality and performance," said a spokesperson for Stewart Milne Timber Systems, which is no stranger to working on healthcare facilities.
"Timber systems are designed to maximise thermal performance and minimise air leakage, meaning well-insulated, higher-performance buildings that won't require expensive add-on or retrofitted technologies to enhance its environmental performance. For hospitals, which require a substantial amount of power to run, the ongoing savings from increased energy efficiency are significant."
Lately, the company has been practising what it preaches up in Scotland, where it has worked with Balfour Beatty on the construction of a new facility in Scotland. Located on a 6.5 hectare site at Ayrshire Central Hospital in Irvine, the new integrated mental health and community development is intended to bring together a comprehensive range of outpatient and in-patient facilities. The development includes 206 single en-suite bedrooms in a primarily single-storey building, which covers a total floor area of around 16,000m2. Once complete the project is expected to achieve a BREEAM Very Good Rating.
Construction began in July last year and it is expected to be operational in Summer 2016. Stewart Milne was brought on board to supply the timber frame for the project, and it worked with the contractor to develop an innovative scaffold-free approach to the build, which delivered the ti